Today, someone you have never met walks in with a power of attorney and demands to be added to your customer's accounts—a customer with hundreds of thousands of dollars with your bank. Your customer is elderly and has no children. Immediately, your mind jumps to thoughts of fraud and protecting your customer as you scramble to figure out what to do.
This is when well written and thought out power of attorney procedures for your financial institution can keep you out of litigation and liability. We don't want to have to decide what to do in each case. We need to know our institution's procedures to protect the bank and the customer and begin to work those procedures so that we follow state law, our internal procedures and our signature card contract. This program will look at power of attorney "dos and don'ts" and how to prevent your institution from making costly mistakes in handling these high-risk documents. We will also provide you with some guidance about what procedures you should have in place for handling POAs. As a bonus, you will receive a chart with your state law link and key components for your state's POA statute
Who Should Attend
This informative session is designed for New Customer Representatives, Customer Service Representatives, Deposit Operations, Tellers, Branch managers and anyone who opens or manages deposit account relationships.
---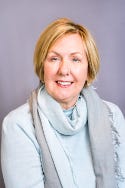 Instructor Bio
---
Continuing Education Credit Information
Recommended for 2.5 CEU Credit Hours. After attending this webinar, each attendee can receive a Certificate of Attendance for self-reporting of CEU Credits.