With financial institutions increasingly relying on third-party providers to offer their products and services comes increased risk. Starting with the core system, should you outsource it or keep it in-house? And following with the rest of all the banking products you offer to your business clients that depend on technology, how in depth should your due diligence be? In this educational session, the presenter provides best practices based on the FFIEC IT Examination Handbook to help you develop a simple yet comprehensive Vendor Management Program.
In addition, along with Vendor Management, which includes all the third-party providers of systems and software, comes yet another risk—Model Risk. The presenter will explain step by step the OCC SR Letter 11-7 following their guidance on Model Risk Management. You will walk away with a clearer understanding of where Vendor Management and Model Risk Management fit it within your ERM program.
Who Should Attend
Chief Risk Officers, Risk Managers/Leaders, Chief Credit Officers, Chief Financial Officers, Compliance Officers, Internal Auditors, IT personnel, Presidents involved in the risk management process and their ERM program.
---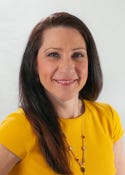 Instructor Bio
---
Continuing Education Credit Information
Recommended for 2 CEU Credit Hours. After attending this webinar, each attendee can receive a Certificate of Attendance for self-reporting of CEU Credits.