With intense competition to capture loans, plus ever-changing levels of interest rates, it is important to have a strategic approach to loan pricing – not just matching or reacting to the competition. This program outlines the ways your bank can cover costs and meeting profit objectives by differentiating loan interest rates to reflect relative risk, plus knowing that you CAN win the borrower's business on a basis other than the lowest price.
This session will cover seven strategic concepts. Along the way, we will demonstrate how to measure loan profitability and calculate the required rate of return on a loan. We'll discuss how to use the components of most loan pricing models to understand where you have a competitive advantage – and also where your bank does not have an advantage. Another important concept is getting premiums for taking risk and for adding value to the customer relationship, and ways to compete with a lower rate for volume or when you are able to mitigate risk better than your competitor can.
Who Should Attend
Commercial lenders, private bankers, small business lenders, community bankers, credit analysts, portfolio managers, assistant relationship managers, lending managers and credit officers.
---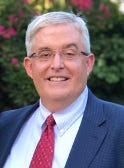 Instructor Bio
---
Continuing Education Credit Information
Recommended for 2.5 CEU Credit Hours. After attending this webinar, each attendee can receive a Certificate of Attendance for self-reporting of CEU Credits.