Whether your institution lacks a cohesive strategy, or just wants to review existing plan(s), this webinar will address questions including your vision for the future of your institution. Do your employees know your vision, and can they articulate it? Does the culture and brand of your institution (everything from your electronic signature on your emails to the look of your lobby) reflect the vision of where you want to take your institution? What about the risks that are unique to your institution? Do you have the right people, and are they in the right places to fulfill the vision of your institution? After this webinar you'll be able to clarify your vision, mission, and core values. You will also be able to identify key components common to successful strategies, understand the role of enterprise risk mitigation and management in an institution's strategic plan, identify and implement four key growth strategies.
Get ready to establish best practices with board governance, develop and manage the strategic planning and implementation process in your institution, and conduct a Strategic Risk Assessment for New Initiatives.
Who Should Attend
This informative session is designed for the Board of Directors, Leadership Team, Supervisors with planning responsibilities, and everyone involved in the Strategic Planning process.
---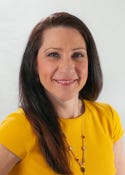 Instructor Bio